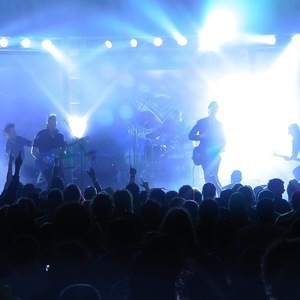 The Megas
Special guest
The Megas are a Los Angeles based band who are best known for their synth rock anthems inspired by the Mega Man and Castlevania video game series. They've been a staple of the video game music scene since the mid-2000s, performing at conventions all over the country, including MAGFest, Bit Gen, Orlando Nerd Fest, TooManyGames, the San Diego Comic Con and more. What sets The Megas apart is their lyrical storytelling which weaves seamlessly with their interpretations of the original video game themes.
The Megas has been a guest on 3 episodes.
December 24th, 2019 | Season 1 | 29 mins 24 secs

filk, holiday, rap, rock, the holidays

Today's episode puts the Holly in your Jolly and the Mistle in your Toes.

July 12th, 2019 | 1 hr 2 mins

This episode is all about the glory of concept albums. Covering songs about the comic Shadowman, the story of Mega Man 2, and a variety of stories from a book on modern fairy tales.

May 17th, 2019 | 45 mins 59 secs

bendy and the ink machine, castlevania, five nights at freddy's, friday the 13th, ghost, hip-hop, horror, it, little nightmares, metal, rap, rock

Songs about things horrific, whether that's movies, video games, or spoopy ghosts.
Featuring music by : A Sound of Thunder, Jonah Knight, The Megas, Dan Bull, Teamheadkick, Fabvl, JT Music, and Tryhardninja.