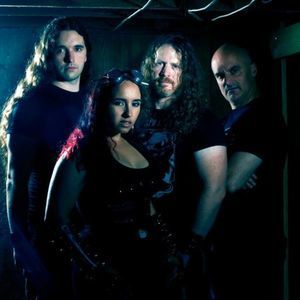 A Sound of Thunder
Special guest
Based out of Washington, DC, A Sound of Thunder (taken from the Ray Bradbury short story of the same name) specialize in a decibel-pushing mix of classic hard rock and classic power metal that invokes names like Judas Priest, Iron Maiden, and Dio.
Built around the powerhouse vocals of classically trained singer Nina Osegueda, the band was formed in 2008 by guitarist Josh Schwartz and drummer Chris Haren. Their eponymous debut EP appeared in 2010, followed by the full-length Metal Renaissance in 2011. For their sophomore outing, 2012's Out of Darkness, the band enlisted the help of platinum award-winning producer Kevin "131" Gutierrez, launching the band to a higher level and worldwide audience.
Beginning in 2013 the band released a string of critically acclaimed albums which were all crowd-funded by the band's fans, known collectively as the Legion of Thunder. Time's Arrow (2013), The Lesser Key of Solomon (2014), Tales from the Deadside (2015), and Who Do You Think We Are? (2016) each found a bigger audience than the previous album, growing the band's fan-base worldwide. Tales from the Deadside was a collaboration with comic book publisher Valiant Entertainment, based on the Shadowman comic book series.
In 2018 A Sound of Thunder released it's seventh album, It Was Metal, accompanied by an original graphic novel and animated video. The advance single "Els Segadors (The Reapers)" went viral in Catalonia reaching the EU200 mainstream music chart and the iTunes Top 40, marking the band's first bona fide hit single and launching their first European tours.
A Sound of Thunder has been a guest on 2 episodes.
July 12th, 2019 | 1 hr 2 mins

This episode is all about the glory of concept albums. Covering songs about the comic Shadowman, the story of Mega Man 2, and a variety of stories from a book on modern fairy tales.

May 17th, 2019 | 45 mins 59 secs

bendy and the ink machine, castlevania, five nights at freddy's, friday the 13th, ghost, hip-hop, horror, it, little nightmares, metal, rap, rock

Songs about things horrific, whether that's movies, video games, or spoopy ghosts.
Featuring music by : A Sound of Thunder, Jonah Knight, The Megas, Dan Bull, Teamheadkick, Fabvl, JT Music, and Tryhardninja.