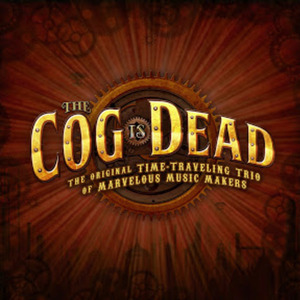 The Cog is Dead
Special guest
The Cog is Dead is a steampunk musical project founded by musician John Mondelli (known by the stage name John Sprocket) in 2006. From its conception down to present day The Cog is Dead has been a regular presence in the steampunk music community, finding its initial fan base in 2009 with the song The Death of the Cog, a song which served as an introduction into the backstory of John Sprocket's character within the fictional world of The Cog is Dead.
In the early days The Cog is Dead was going to solely be a studio project - recording and releasing albums but not performing live concerts. As time went on and the audience continued to grow came more and more requests for live performances. So in 2012, when a convention offered an opening slot at an Abney Park concert (a band whose steampunk style was a major influence on The Cog) the decision was made to book their first show. Then another. And another. Shortly thereafter The Cog is Dead was invited to go on a tour with fellow steampunk acts Frenchy and the Punk and This Way to the Egress. After the tour The Cog is Dead began regularly booking shows at conventions, and it was during this time that Bradley and Renate became regular performers in the live shows. In 2015 they filmed their first live concert film The Cog is Dead: Live at the Athens Theatre. Around this time the decision was made to be a convention act rather than a touring one, and from there on forward The Cog is Dead has performed at conventions all over the United States. Today The Cog is Dead continues to regularly write and release new music and remain an active part of the steampunk music community, and the live act continues to play occasional shows at steampunk events around the country!
The Cog is Dead has been a guest on 1 episode.
October 11th, 2019 | 29 mins 31 secs

food, hip-hop, rock, steampunk, techno, weird

Today's episode is about all things food related. Hope you're hungry, cause we got plenty to serve.