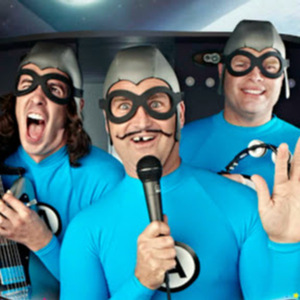 The Aquabats!
Special guest
The Aquabats are a rock 'n roll band and a 5-member team of heroes.
They fight the forces of evil and boredom across the land in their BattleTram using positive vibes and rad music.
The Aquabats! has been a guest on 2 episodes.
February 13th, 2020 | 31 mins 33 secs

filk, nerdcore, romance, tv show

Instead of taking you down that well-worn path of saccharine songs about "twue wuv", it's high time we took a look at romance gone wrong.
That being said, while there aren't any explicit lyrics in these songs, there are a couple with some mature themes, so be aware before diving in with younger listeners.
Now, don't go gaga, but it's time for a little...Bad Romance.

October 11th, 2019 | 29 mins 31 secs

food, hip-hop, rock, steampunk, techno, weird

Today's episode is about all things food related. Hope you're hungry, cause we got plenty to serve.