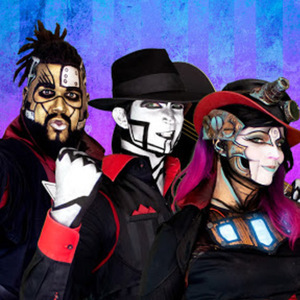 Steam Powered Giraffe
Special guest
More than a band. More than a show. Step into the world of Steam Powered Giraffe.
Steam Powered Giraffe is a musical project from San Diego, California. It was formed in 2008 by twin siblings David Michael Bennett and Isabella "Bunny" Bennett. Together, along with a cast and crew filled with theatrical backgrounds, the group takes on the guise of singing antique automatons and the fictional robotics company that made them.
The quirky act combines comedic sketches, improvised android banter, and original music fused with multimedia visuals, billowing steam effects, and robot pantomime.
From their heartwarming nostalgic melodies to their funky cabaret rock, Steam Powered Giraffe's songs are memorable, infectious, and as unique as the robots themselves.
More than just a band, Steam Powered Giraffe is an experience that must be seen and heard by the entire family.
The artists behind the robots started street busking as these quirky characters in January 2008 at Balboa Park, California, and instantly drew the attention of Southern California. Since then they've performed at such venues as The San Diego Fair, The San Diego Zoo, The Wild Animal Park, Legoland, Ontario Mills, and numerous Sci-Fi, Fantasy, and Steampunk Conventions.
Steam Powered Giraffe has been a guest on 1 episode.
February 13th, 2020 | 31 mins 33 secs

filk, nerdcore, romance, tv show

Instead of taking you down that well-worn path of saccharine songs about "twue wuv", it's high time we took a look at romance gone wrong.
That being said, while there aren't any explicit lyrics in these songs, there are a couple with some mature themes, so be aware before diving in with younger listeners.
Now, don't go gaga, but it's time for a little...Bad Romance.