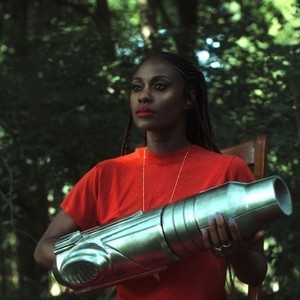 Sammus
Special guest
SAMMUS (Enongo Lumumba-Kasongo) an Ithaca, NY native, is a rap artist and producer, as well as a soon-to-be doctor in science and technology studies from Cornell University. In fall of 2019 she will be joining Brown's music department as a postdoctoral fellow through a joint appointment with the Cogut Center for the Humanities. As a working musician since 2010, Enongo aka Sammus has also written, produced, and recorded three full-length albums (one of which has charted on Billboard), three EPs, a collaborative video-game themed concept album with the MC Mega Ran, a critically acclaimed beat tape, and countless one-off collaborations with artists from a variety of genres as well as video game developers, podcasters, and filmmakers. Her story as an artist at the intersections of academia and Afrofuturism has led to coverage in publications like The New York Times, NPR, Pitchfork, and Afropunk among others. She has also been invited to perform and speak at a range of conferences, conventions, festivals and campus engagements about her experiences as a hip hop artist, black feminist, Afrofuturist thinker, and artist/academic. Her live shows, characterized by her explosive energy and the inclusion of elements of cosplay, bring together a diverse array of activists, hip hop heads, punks, and self-identified nerds and geeks, among others. As noted by the Los Angeles Times, Sammus "has a gift for getting a message across."
At Brown she will be pursuing research and teaching about Afrodiasporic forms of music-making. Her other academic interests include gender and technology, as well as sound in gaming. Her dissertation is a multi-cited ethnography that examines the politics that coproduce music-making practices in recording studios that prioritize working with artists from "underserved" communities (poor, black and Latinx youth) as well as women and non-binary artists; and that exist to provide these groups with free and low-cost recording services and education.
In addition to managing a full-time music career and her graduate school obligations, Enongo has spent the past decade as an educator in both public-school contexts and at the college level. Between 2008-2010 she served as a corps member in the national teaching program Teach for America, through which she taught elementary math and science at an underserved school in southwest Houston, TX. Throughout her graduate school experience at Cornell she has taught and TA'd courses on sound studies, bioethics, science and feminism, American studies, and introductory science & technology studies as well as giving talks in the music department and Africana studies department. Since 2016 she has also taught courses at NYU in the Science, Technology, and Society Department within the Tandon School of Engineering. At Brown she hopes to lead courses on hip hop songwriting and feminist recording and musicking practices among other topics.
Finally, as a public scholar, Enongo has committed much of her time to community building and thinking critically about how to invite other forms of expertise into academic spaces. From 2014-2016 she served as the Assistant Residence Hall Director at a music-focused residential community at Cornell through which she highlighted the creative contributions of black artists across a multitude of musical genres through concerts, panel discussions, and workshops among other programs. From 2016-2017 she served on the board of Ithaca Underground, a radical all-ages arts non-profit within the Ithaca area. During her time on the board, she focused her efforts on building relationships with more local and regional hip hop acts and conducting outreach to involve more people of color in the programming and planning of events. That same year she also helped to organize an Ithaca chapter of Black Lives Matter with a multi-generational group of organizers who were (and remain) committed to developing initiatives and programs around the principles of anti-racism and self-determination. From 2013-2014 she was selected to be a Publicly Active Graduate Education (PAGE) Fellow and from 2016-2017 she served as a New York Public Humanities Fellow, through which she participated in workshops and conferences designed to engender more expansive ideas around what constitutes ethical and accessible academic research.
Finally, as a very-vocal black feminist, Enongo has produced articles for publications such as Bitch, For Harriet, Sounding Out!, and The Mary Sue related to issues of race, hip-hop, gaming, and feminism.
Sammus has been a guest on 1 episode.
August 9th, 2019 | 35 mins 26 secs

explicit, hip-hop, nerdcore, rap, rock

Songs about video games new and old. Featuring songs about God of War, Pokemon Go, Shadow of Mordor, Warframe, Monster Hunter, Metroid, and Fortnite.