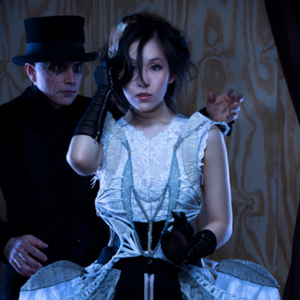 Psyche Corporation
Special guest
Psyche Corporation is a fairytale cyber/steampunk band fronted by a former Ladies of Steampunk model and programmer who combines dance with a powerhouse vocal range. The band is named after a dream manufacture group from a future where neural implants allow people to download dreams from the Internet. Songs deal in dystopian themes as well as more lighthearted filk works, such as "Perl-Operated Boy". The musical style spans genres of trip-hop, electro-rock, and world music.
The band first began playing live in 2007, and over the years has included dancers, guitarists, and a cellist at various points, but the one constant is vocalist/producer/frontwoman Psyche Chimère.
Psyche Corp. is a favorite amongst east coast steampunk conventions/events, renaissance festivals, gothic balls, and anime-friendly conventions. Notably, we've performed at FanEXPO (which annually draws about 60,000 patrons) in Toronto as the headlining musical guest for their steampunk programming in August 2010, and were invited back for another convention put on by Steampunk Canada in 2011. We've also performed at every Wicked Faire since 2009 (this is an annual combination alt pagan scifi renaissance faire convention in NJ that currently draws about 3,000 or more patrons per year), and every Steampunk World's Fair since the first iteration in 2010. We've also become regulars at Arisia (sci fi con in Boston, MA) and TempleCon (sci fi con in Warwick, RI).
More recently, Psyche Corp. was the headlining musical act for Ikkicon (a major anime convention) in Austin, TX for December 2012, and opened for Mr. B the Gentleman Rhymer at SteamStock 2013 in Richmond, CA. Our performances as of 2012 have received film coverage by the Discovery Channel and Travel Channel, among others.
Photo by House of Indulgence.
Psyche Corporation has been a guest on 1 episode.
October 31st, 2019 | 33 mins 23 secs

alternative, chill, food, halloween, holiday, rap

All about things that go bump in the night. This episode is dedicated to music to put you in the mood for Halloween.