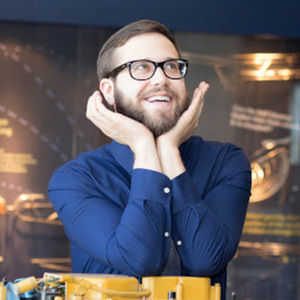 Mayor Wertz
Special guest
Mayor Wertz is a rapper based in Lakewood, Ohio. His music is equally entertaining and insightful while using thought provoking lyrics to tell engaging stories. His live performances are exhilarating and the audience is also a part of the show. From the front of the stage to the back wall of the venue, everyone is invited to participate in a Mayor Wertz performance. At the end of the show Mayor Wertz wants the audience to feel like friends, not just fans.
Mayor Wertz created a YouTube video titled "Guy Fieri Eating to 'Hurt' by Johnny Cash." Garnering over five hundred thousand views in a matter of days, his video received coverage by various prominent outlets, including Time, The A.V. Club, and Forbes. He continues to make videos using his improve background to entertain viewers on many different mediums.
Mayor Wertz has been a guest on 1 episode.
February 13th, 2020 | 31 mins 33 secs

filk, nerdcore, romance, tv show

Instead of taking you down that well-worn path of saccharine songs about "twue wuv", it's high time we took a look at romance gone wrong.
That being said, while there aren't any explicit lyrics in these songs, there are a couple with some mature themes, so be aware before diving in with younger listeners.
Now, don't go gaga, but it's time for a little...Bad Romance.