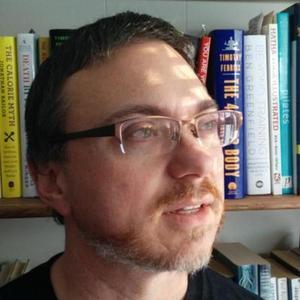 Jonah Knight
Special guest
Jonah Knight is the world's foremost provider of Paranormal Modern Folk. And what the hell is that? Geek music, or nerd music, tends to be heavy on the humor. Jonah's songs are heavy on the ghosts. What if Tom Waits played at scifi conventions? What if They Might Be Giants were serious and creepy?
He writes about ghosts, monsters, steampunk, super villains, weird holiday traditions, and other under served subjects in music.
Jonah is a multiple time musical guest of honor at various fan conventions, haunted attractions, and festivals in large part to his engaging concerts. He focuses on delivering a quality live performance that drags the audience kicking and screaming from dark and creepy to uneasy humor and back again. Armed only with a weathered guitar.
Jonah Knight has been a guest on 3 episodes.
December 24th, 2019 | Season 1 | 29 mins 24 secs

filk, holiday, rap, rock, the holidays

Today's episode puts the Holly in your Jolly and the Mistle in your Toes.

October 31st, 2019 | 33 mins 23 secs

alternative, chill, food, halloween, holiday, rap

All about things that go bump in the night. This episode is dedicated to music to put you in the mood for Halloween.

May 17th, 2019 | 45 mins 59 secs

bendy and the ink machine, castlevania, five nights at freddy's, friday the 13th, ghost, hip-hop, horror, it, little nightmares, metal, rap, rock

Songs about things horrific, whether that's movies, video games, or spoopy ghosts.
Featuring music by : A Sound of Thunder, Jonah Knight, The Megas, Dan Bull, Teamheadkick, Fabvl, JT Music, and Tryhardninja.