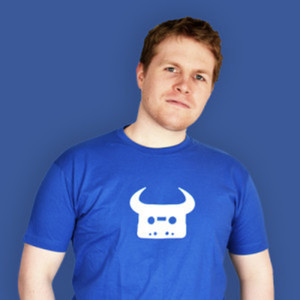 Dan Bull
Special guest
Dan Bull is an English rapper and songwriter known best for his songs about video games, which he publishes on his YouTube channel. His raps cover a variety of styles including nerdcore, political, and comedy.
Bull creates gaming raps, ranging with the subgenres nerdcore, political and comedy hip hop. He was briefly partnered with Machinima; however, due to a dispute[9] he now uploads videos independently. He also recorded the theme song for popular YouTuber Nerd³, as well as making an appearance with British gaming group, The Yogscast, with the song "Kicky Kicky Flow" (a rap about Simon Lane and Lewis Brindley), and InTheLittleWood rap (a rap about Martyn Littlewood, another Yogscast member).
In sixth form he was given the award for "weirdest behaviour" and he is one of the few people on earth to have looked Jeremy Paxman in the eye and seen fear.
Dan Bull has been a guest on 3 episodes.
October 31st, 2019 | 33 mins 23 secs

alternative, chill, food, halloween, holiday, rap

All about things that go bump in the night. This episode is dedicated to music to put you in the mood for Halloween.

August 9th, 2019 | 35 mins 26 secs

explicit, hip-hop, nerdcore, rap, rock

Songs about video games new and old. Featuring songs about God of War, Pokemon Go, Shadow of Mordor, Warframe, Monster Hunter, Metroid, and Fortnite.

May 17th, 2019 | 45 mins 59 secs

bendy and the ink machine, castlevania, five nights at freddy's, friday the 13th, ghost, hip-hop, horror, it, little nightmares, metal, rap, rock

Songs about things horrific, whether that's movies, video games, or spoopy ghosts.
Featuring music by : A Sound of Thunder, Jonah Knight, The Megas, Dan Bull, Teamheadkick, Fabvl, JT Music, and Tryhardninja.